Order Statuses
Real ID can sync the ID check results to your WooCommerce orders. This allows you to hold orders if an ID check is required for the order.
Once the customer completes the ID check, then the order can be released. Or if the ID check fails, then the order will fail.
This allows you to automate your fulfillment for orders if they require ID verification.
Setting up order status syncing​
To enable this feature, open the Settings area of the plugin. Then click on the WooCommerce tab.
Here you can enable syncing of ID checks to orders status fields: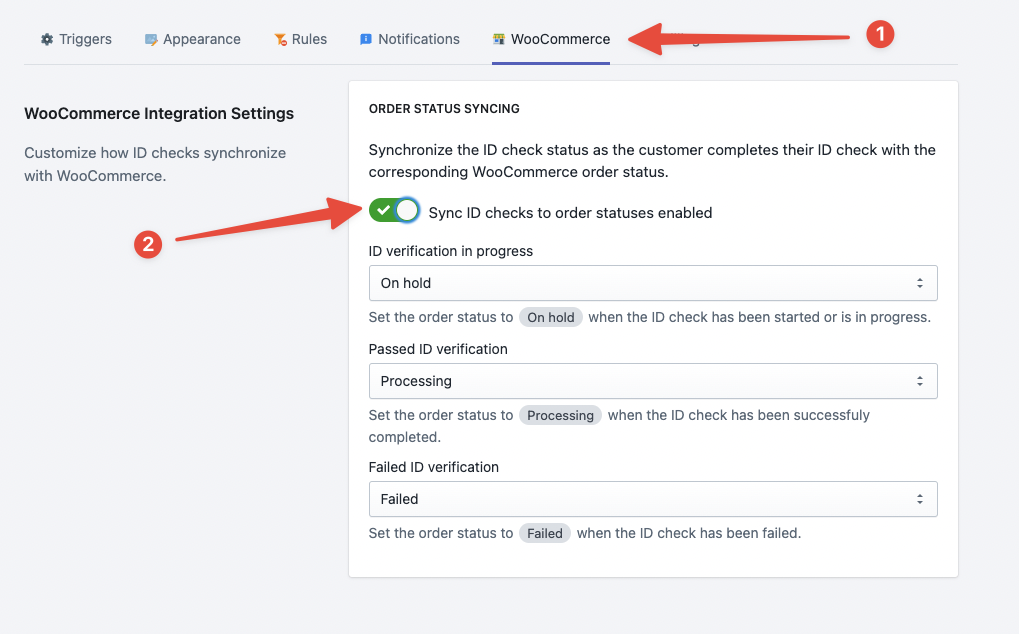 You can use the dropdowns to change the order status assigned to each stage of an ID check.
The default for ID checks in progress is On hold. But you can change it to any status.
tip
If you have custom order statuses for your store, they will be automatically populated as options in the dropdown as well.
Frequently Asked Questions​
Will enabling this feature cause failed ID checks to cancel & refund payments?​
No, Real ID does not cancel transactions or refund transactions. This feature only affects the order status filed on the WooCommerce order.
Where are the list of available WooCommerce order statuses?​
You can find a complete list of available WooCommerce order statuses and a helpful flow diagram to understand the transitions between them here: