Test Mode
When you first install Real ID to your store, the app is in Test Mode.
In test mode, you're granted all features for free and can also send test ID checks at no charge.
This gives you the opportunity to sample all of Real ID's features and verify it works correct with your store and theme before choosing a plan.
If the app is in test mode, you'll see this banner at the top of each page:

Restrictions​
In test mode, you'll be able to use all Pro level features as well as send ID checks.
However, there are a few restrictions:
All ID checks sent in test mode will have mock fake data and will always pass
Enterprise features are not included in test mode
info
ID checks sent during test mode will have mock data that represents what the app could read.
The images of the ID and headshot will also be blurred.
Going live​
After you've had a chance to try out the features and decide which plan fits best for your needs, click the Go Live button on the left hand side menu: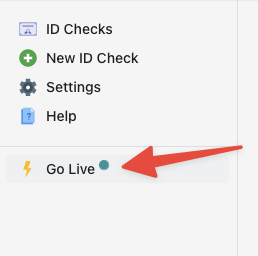 After picking a plan, you'll be able to send real ID checks with actual results and unblurred photos.
note
You're only able to go into test mode once. But you can downgrade or upgrade your plan at any time.